All blog content is for information purposes. Any reference to indivisual stocks, indexes, or other securities as well as all graphs and tables are not recommendation but only referenced for illustration purposes.
Market Commentary
for the week ending April 24th, 2021
Summary
Stocks were volatile but closed the week little changed.
Bond yields continue to come off their March month-end highs as inflation fears ease.
Reports continue to indicate a booming U.S. economy with strength in housing, manufacturing, and more.
This Week's Performance Highlights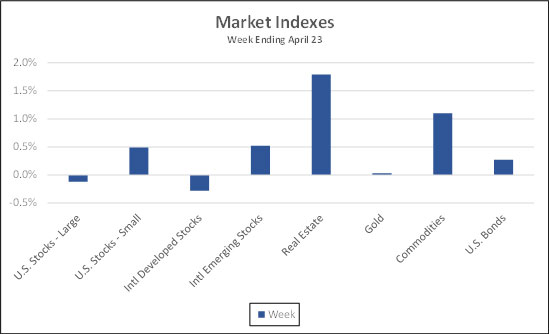 Source: www.YCharts.com
Stocks closed little changed overall for the week but it was not without some volatility.  At the close of the week large U.S. stocks, as measured by the S&P 500, were down just -0.1%, the Dow Industrials lost -0.5%, and the NASDAQ was lower by -0.3%.
Small U.S. stocks posted gains of +0.5% and continue to lead for 2021 higher by +15.4% while large stocks are up +11.8%.
The range of gains and losses among the various sectors was relatively tight this week with the biggest lost in energy stocks of -1.8% while healthcare stocks posted the best gains of +1.6%.
In last week's blog I highlighted the initial public offering of Coinbase (COIN), the largest digit currency exchange.  The company's stock fell -14.7% in its first full week of trading hurt by a -21.4% drop in the price of the most popular digital currency Bitcoin.
International stocks were mixed as well with developed country markets of -0.3%.  Stocks in Japan continue to lag behind falling -1.2% for the week and higher by just +2.3% year-to-date while the Eurozone gained +0.2% for the week and is higher by +11.3% in 2021.
Emerging markets overall posted gains higher by +0.5% helped by strength in China with stocks up +1.5% for the week but lag for the year with a gain of just +2.5%.  Stocks in Turkey were among the worst performers, down -6.7%, as the country continues to struggle with a lack of confidence in its leadership.
Real estate stocks were the best performing asset class for the week gaining +1.8%.  The accompanying table shows the best performers amongst this group in 2021 all of which are up +30% or more.  Three of these stocks have surged nearly +150% or more since their lows a years ago and all but one, Simon Property Group, are at or very close to pre-pandemic levels (far right column in table).

Source:www.YCharts.com

Gold was unchanged for the week and Commodities were higher by +1.1% suggesting the fears about the risk of inflation may be easing.
Bond prices gained +0.3% resulting in yields continue to fall from their recent highs.  At the close of the week the 10-Year U.S. Treasury yield was down to 1.564% from 1.584% the week before.  At the end of March the yield peaked at 1.745%.  Again, this may be a sign investors fear of inflation is easing.
Interesting Numbers
42%
According to a paper authored by the National Bureau of Economic Research, 42% of the unemployed are making more money via unemployment benefits, including the federal governments additional $300 per week, than they were making prior to the pandemic.  Prior to the federal government benefit being cut from $600 to $300, this paper says it was 76% of the unemployed who were better off not working.  Data suggests this is making it difficult for employers to fill open positions as the economy reopens.
10
Special Purpose Acquisition Companies, otherwise known as SPACs, have been coming to market at a rapid pace in 2021 until recently.  These companies that are nothing more than a pool of cash looking to make an acquisition, also known as blank-check companies, were all the rage in the first quarter with 292 coming to market but have suddenly stalled in April with just 10 new one formed.  The slowdown is attributed to recent the recent attention they have gotten from the SEC.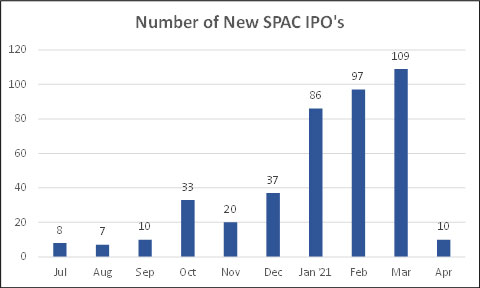 Source: https://www.cnbc.com/2021/04/21/spac-transactions-come-to-a-halt-amid-sec-crackdown-cooling-retail-investor-interest.html?utm_source=morning_brew
Economic Indicators
1.02 million
New home sales surged to the highest level since 2006 hitting an annualized rate of 1.02 million in March as home builders scramble to meet the continued high demand.  This was a 20.7% jump over the prior month's pace and well in excess of economists' expectations.  The South region saw the biggest gains, jumping +40% while sales in the West, the only region decline, fell -30%.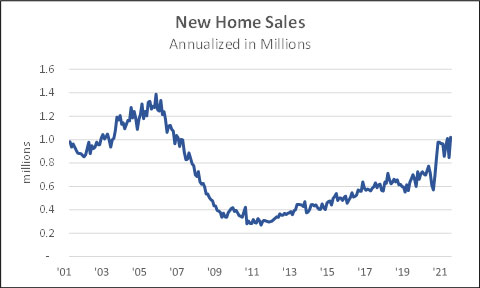 Source: https://www.census.gov/construction/nrs/historical_data/index.html
The supply of new homes at the end of March fell to just 3.6 months from 4.4 the prior month.  It is estimated, that due to under-building for several years, that there could be a shortage of as many as 4 million homes.  This housing boom could persist for some time.
547,000
Initial jobless claims continued to improve falling to 547,000 from 586,000 the week before marking the lowest level since the start of the pandemic.
62.2
The U.S. composite purchasing managers index rose to a record high 62.2 in the current month.  Both the services index and the manufacturing index hit record levels of 63.1 and 60.6 respectively.  Any reading above 50 indicates conditions are improving.
The manufacturing sector improved in spite of supply chain problems and the service sector was helped by reopenings and strong demand.  This is all yet another indication the U.S. economy is experiencing boom-like conditions.
Upcoming Economic Reports
Gross Domestic Product
Durable Goods Orders
Case-Shiller Home Price Index
Consumer Confidence Index
Initial Jobless Claims
Employment Cost Index
Consumer Spending