All blog content is for information purposes. Any reference to indivisual stocks, indexes, or other securities as well as all graphs and tables are not recommendation but only referenced for illustration purposes.
Market Commentary
for the week ending October 4th, 2019
Summary
Stocks closed mixed around the world but volatility was relatively high throughout the week
China's market rallied this week but remains well behind U.S. markets year-to-date
Gold was higher for the week and provided meaningful protection in a diversified portfolio when stocks sold off sharply
Market Performance Summary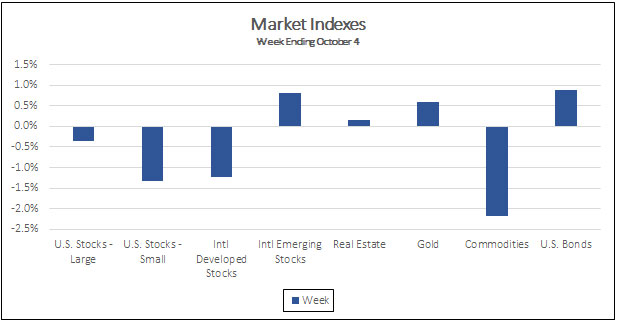 Source: www.YCharts.com
Notable Market Headlines
Investors continue to be faced with a range of concerns including the ongoing trade wars, impeachment proceedings of President Trump, a volatile energy prices. In spite of these worries, hopes have remained high, as demonstrated by stocks trading near record levels, that the U.S. economy will continue to grow. These hopes were brought into question this week as more signs emerge that the economy may be weakening.
The relatively small week-over-week change for U.S. large stocks masks what was otherwise a fairly volatile week of trading and one of the poorer starts to a new quarter that we've seen in years. The selloff earlier in the week though was followed by two strong up days on Thursday and Friday leaving the S&P 500 down just -0.4% for the week. The Dow Industrials suffered a large -0.9% loss but the tech-heavy NASDAQ showed strength gaining +0.5% for the week in spite of continued governmental pressure on large tech companies. Small U.S. stocks did not hold up as well as large falling -1.3% for the week. Year-to-date large stocks have done much better than small up +19.4% versus +12.5% for small stocks.
International stocks were mixed with developed countries declining by -1.2% as Australian and European stocks were down and stocks in Japan gained. One of the worst performing European markets this week was the U.K. down -2.6% as the country continues to grapple with its Brexit plan. Emerging markets fared better overall gaining +0.8% helped by the largest of the emerging markets, China, up +2.0% for the week. Although this was a strong week for Chinese stocks they remain far behind U.S. markets year-to-date up just +4.0% compared to large U.S. stocks higher by +19.4%.
The non-traditional asset classes were also mixed for the week with gold and real estate stocks both higher, up +0.65 and +0.2% respectively, while commodity prices weakened, down -2.2%, on a continued decline in the price of oil. Although the performance of these assets was mixed for the week, the accompanying graph shows the diversification value of gold, as an example, rising meaningfully on Tuesday and Wednesday when U.S. large stocks, the S&P 500, was sharply lower both days.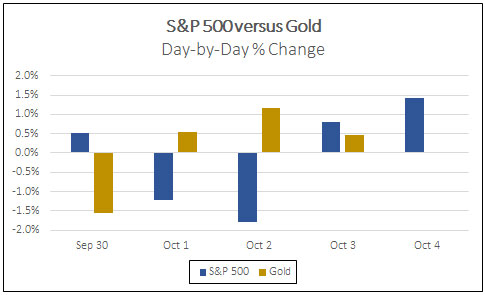 Source: www.YCharts.com (Gold symbol: GLD)
Bond prices were consistently strong throughout the week closing higher by +0.9%. U.S. government bonds rallied even more up +1.4% as measured by the index fund symbol IEF. These lower prices pushed the yield on the benchmark 10-year U.S. Treasuries to 1.530% down from 1.683% the week before. Year-to-date bonds are having a very strong year up +9.5%.
Stock Highlights
Lennar Corp. (LEN), the largest homebuilder in the United States with revenue of nearly $22 billion, reported quarterly results with revenue up +3.2% and earnings per share that topped Wall Street estimates. The company says the environment for industry remains strong with unemployment low, rising wages, and low levels of housing inventory. Lennar's stock jumped +8.7% for the week and is now higher by +52.0 in 2019.
MarketAxess Holdings (MKTX), a U.S. based electronic trading platform for corporate bonds and other types of fixed income instruments, reported trading volumes up sharply year-over-year. When the company reported trading volumes a month ago, as discussed in our blog, the stock dropped sharply. Fortunately for investors this week it rallied +6.8%, making it one of the best performers among the S&P 500, and is higher year-to-date by a very strong +64.2%.
Charles Schwab (SCHW), a leading discount brokerage firm, shocked investors this week announcing that it is cutting the commissions it charges to trade various securities to zero. It has been an ongoing price war since commissions were deregulated in 1975 resulting in tremendous savings to investors. Schwab's announcement this week resulted in near immediate reactions by its competitors to do the same. It was a rough week for these stocks with Schwab's down -13.9% while competitors E*Trade (ETFC) and TD Ameritrade (AMTD) fell -15.9% and -28.3% respectively.
HP (HPQ), the computer hardware and printer company created in 2015 when Hewlett-Packard was separated into two companies, announced another restructuring plan. As part of this plan, the company plans to lay off between 7,000 – 9,000 employees in an effort to increase profitability. This is a reduction of about 15% of its 55,000 current employees. As the accompanying graph shows, the stock had rallied from the start of 2016 to mid-2018 but has since fallen by about -34%. This week the stock was again lower by -10.2%.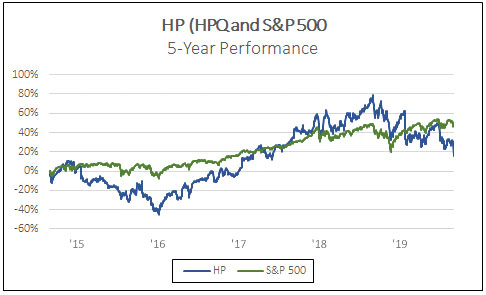 Source: www.YahooFinance.com
Economic Indicator - Reported
The U.S. economy is added 136,000 jobs in the most recent month falling short of economists' forecast of 150,000. Although this was a slight disappointment, the prior two months were revised higher by a combined +46,000 jobs. Worker pay continued to increase at a rate of +2.9% year-over-year but this was a drop from +3.2% in the prior month. In a separate report the unemployment rate fell to its lowest level since 1969 to 3.5%. All of this seems to generally fuel an optimistic view of economy.
The Institute for Supply Management, or ISM, said its manufacturing index fell to 47.8% from 49.1% the prior month. Any reading below 50% indicates the sector is contracting. This current report is the lowest level since June 2009 just following the end of the Great Recession. This month's report was well below economists' forecast of 50.2% and is being mostly blamed on the ongoing trade war and tariffs.
Motor vehicle sales climbed to an annual rate of 17.2 million compared to 17.0 million a month earlier.
Economic Indicators – Upcoming
The following economic data are expected in the coming week:
Producer Price Index (PPI)
Consumer Price Index (CPI)
Consumer Sentiment Index