All blog content is for information purposes. Any reference to indivisual stocks, indexes, or other securities as well as all graphs and tables are not recommendation but only referenced for illustration purposes.
Market Commentary
for the week ending March 13th, 2021
Summary
Stocks rallied, including a surge in small U.S. stocks, in spite bond yields continuing higher.
Inflation is flaring up but not expected to persist at the current pace.
China's market was one of the few down for the week.
This Week's Performance Highlights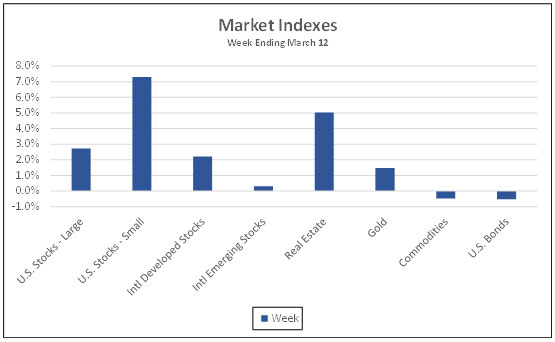 Source: www.YCharts.com
U.S. stocks charged higher this week with large stocks up +2.7% as measured by the S&P 500 and the Dow Jones Industrials rallied +4.1%. The tech-heavy NASDAQ kept up this week, unlike some prior, gaining +3.1%.
Some of the best performing individual stocks were those expected to most benefit from an improving economy such as airlines, cruise line, retailers, and steel companies.
The biggest winners were small U.S. stocks surging a massive +7.3% bringing their year-to-date gain to a whopping +19.1% as compared to large U.S. stocks up +5.4%.
Every sector was in the green for the week with consumer discretionary stocks leading the way higher up +6.3%. The accompanying table highlights some of the best performers in this group. Utilities were the second best performing sector while technology stocks were among the poorer performing.

Source: www.YCharts.com

International stocks closed the week higher but trailed U.S. markets with developed markets on average gaining +2.2%. The Eurozone, one of the three developed markets, outperformed the others helped by word that the European Central Bank (ECB) is speeding up its purchase of bonds which should help keep yields lower.
Emerging markets lagged behind up just +0.3% impacted greatly by a decline in the largest emerging market, China, down -1.5% for the week. As the accompanying graph shows Chinese stocks got off to a hot start in 2021 but have since reverted and are now neck-and-neck with large U.S. stocks for the year.

Source: www.YCharts.com

Real estate stocks were the best performing of the alternative asset classes this week turning in a particularly strong gain of +5.0% bringing their 2021 gain to +10.6%. Gold joined in the week's rally but generally lagged with a gain of +1.5% but is still meaningfully lower for the year. Commodity prices were among the few things lower this week down -0.5% but are holding onto a big +19.1% 2021 gain.
Bond prices continued to drop, down -0.5%, pushing yields further higher. The benchmark 10-Year U.S. Treasury yield closed the week at a fresh 2021 high of 1.629%. This is the highest since January 2020 and up from just 1.016% less than 6 weeks ago. These higher yields are widely expected to present a long-term headwind for stock prices continuing to rally.
Interesting Numbers
$240
A new study of Robinhood, the relatively new and very hot online stock trading app, says that the average account balance of its 13 million users is just $240. One of the most commonly visited topics on the company frequently asked questions page is "What is the Stock Market" suggesting many users are new to investing.Among findings in the study is that a large majority of Robinhood users are buy-and-hold investors which is contrary to popular belief.
+92%
GameStop's (GME) stock has now down a second time what most could not believe it did once…surging higher! The stock of this struggling retailer jumped +92% this week as illustrated in the accompanying graph. Both the surge in late January as well as the recent one are believed to be fueled by online users of the online site Reddit. Time will tell if this second surge will hold.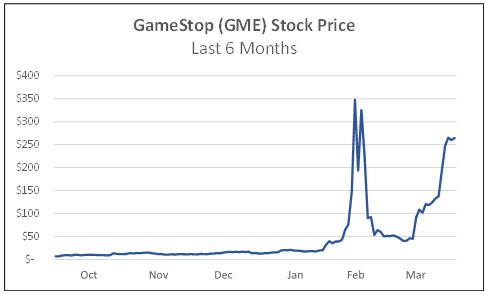 Economic Indicators
Higher gas prices help drive consumer prices higher, as measured by the Consumer Price Index (CPI), by +0.4% in February while the core CPI, excluding volatile food and energy prices, was higher by just +0.1%. Year-over-year prices are higher by +1.7% which, as illustrated in the accompanying graph, is still relatively modest compared to the past 20 years but has rebounded sharply from the post-pandemic low.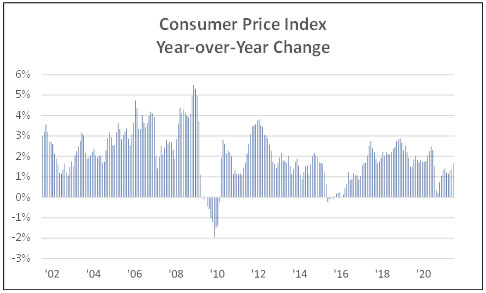 Source: https://fred.stlouisfed.org/series/CPIAUCSL
Given the combination of Covid cases falling, the economy reopening, and a massive government stimulus, economists expect the rate of inflation to continue higher reaching +2.8% annually by June of this year but then settling in around +2.3% in 2022 according to the Wall Street Journal. The Federal Reserve has indicted it believes that any rise in inflation will be temporary.
Producer Prices (PPI) grew at a slightly faster rate than consumer prices in the most recent month, +0.5%, but much faster year-over-year at +2.8%. This report follows a +1.3% surge in prices in January which is now confirmed to have been a one-off event.
Initial jobless claims for the week continued to fall coming in at 712,000 compared to 754,000 the week before. Although these numbers are not reliable they do suggest the employment market is trending in the right direction and continuing to recover.
Consumers continue to grow more optimistic as measured by the University of Michigan's Consumer Sentiment Index. The index came in at 83.0, better than economists had expected, compared to 76.8 the month before. The improvement in the current month was fueled largely by consumers' improved outlook for the national economy later this year.
Upcoming Economic Reports
Retail Sales
Industrial Production
Housing Starts
Initial Jobless Claims
Leading Economic Indicators