ALL BLOG CONTENT IS FOR INFORMATIONAL PURPOSES ONLY. ANY REFERENCE TO OR MENTION OF INDIVIDUAL STOCKS, INDEXES, OR OTHER SECURITIES ARE NOT RECOMMENDATIONS AND ARE SPECIFICALLY NOT REFERENCED AS PAST RECOMMENDATIONS OF PATTON WEALTH ADVISORS. ALL GRAPHS, CHARTS, AND TABLES ARE PROVIDED FOR ILLUSTRATION PURPOSES ONLY. EXPRESSIONS OF OPINION ARE ALSO NOT RECOMMENDATIONS AND ARE SUBJECT TO CHANGE WITHOUT NOTICE IN REACTION TO SHIFTING MARKET, ECONOMIC, OR POLITICAL CONDITIONS. IT IS COMMON FOR US TO USE A FUND AS A PROXY FOR AN INDEX OR ASSET CLASS. FOR MORE DETAILS SEE OUR FULL DISCLOSURE HERE.
Market Commentary
for the week ending October 18th, 2019
Summary
Earnings seasons kicks off with generally positive results for the quarter
Retails sales were disappointing in September indicating a possible slowdown in consumer spending
Healthcare stocks were among the star performers but continue to trail the S&P 500 in 2019
Market Performance Summary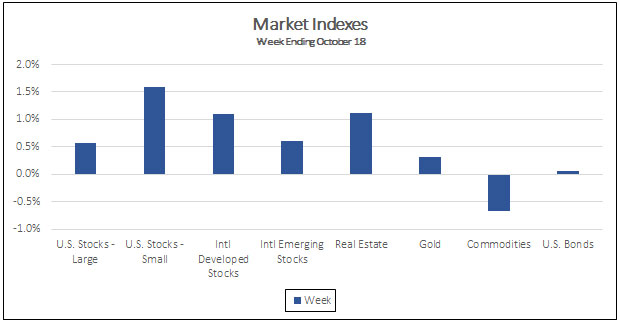 Source: www.YCharts.com
Notable Market Headlines
Multiple economic reports suggest the U.S. economy is weakening including disappointments in both retail sales and industrial production. At least, for now, this may be giving the stock market a boost with the expectation that this slowdown will be the ammunition the Federal Reserve needs to continue lowering interest rates. Somewhat complicating the story though are earnings reports from multiple companies for the third quarter suggesting both the economy and consumer remain relatively strong.
At the close of the week, U.S. stocks were higher but the gains were not evenly distributed with U.S. large stocks, as measured by the S&P 500, higher by +0.6% but the tech-heavy NASDAQ lagged gaining +0.4% and the Dow Industrials were actually lower by -0.2%. Much of this can be explained by what looks like investors trying to figure out the eventual outcome of the trade wars and which companies will be the winners and losers. Small U.S. stocks performed much better gaining +1.6% for the week but are still lagging behind for the year up +15.1% as compared to the gain for large stocks of +20.9%.
Among the best performing sectors for the week was healthcare jumping +2.1% with the 6 best performing stocks in the S&P 500 being in this sector. Several of these companies reported earnings that were well received by investors. In spite of the week's gains, you can see in the accompanying graph that the sector has performed relatively poorly compared to the S&P 500 in 2019.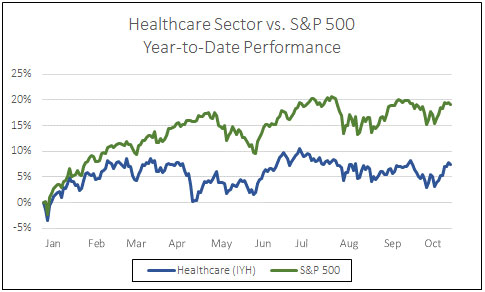 Source: www.YahooFinance.com
European markets were strong performers with Germany and Spain leading the way with gains of +2.9% and +2.4% respectively. Overall, international developed markets were higher by +1.1% with stocks in Japan and Australia lagging behind. Emerging markets posted gains as well up +0.6%. Both developed and emerging markets continue to trail U.S. markets year-to-date with gains of +15.2% and +8.3% respectively.
Two of the three alternative asset classes were higher for the week with real estate stocks performing the best up +1.1%. Year-to-date this has been the best performing group with a gain of +25.5% arguably helped by lower interest rates in 2019. Gold also rose by +0.3% while commodities slipped -0.6% and a decline in the price of oil.
Bonds were little changes this week, up +0.1%, with the yield on the benchmark 10-Year Treasury closing at 1.755%. Investors appear to be patiently waiting for the Federal Reserve's decision on interest rates next week.
Stock Highlights
UnitedHealth Group (UNH), the largest private health insurance provider with $237 billion in annual revenue, reported quarterly results that topped Wall Street expectations and helped fuel many stocks in the sector higher. Both sales and earnings came in above the same period last year and management raised its forecast for the full year. This stock jumped +10.5% this week, adding more than $20 billion in value, but remains lower year-to-date by -1.5%.
Netflix (NFLX), the video streaming giant, reported earnings for the most recent quarter the initially helped propel the stock sharply higher. Sales and earnings were both higher with earnings above Wall Street expectations but revenue falling slightly short. The focus was on the number of new subscribers, in particular in international markets, with the company adding 6.26 million. This was ahead of expectations but the number of U.S. new subscribers fell short. As the accompanying graph shows, the initial reaction by investors was very positive but the stock later declined closing the week lower by -2.7%.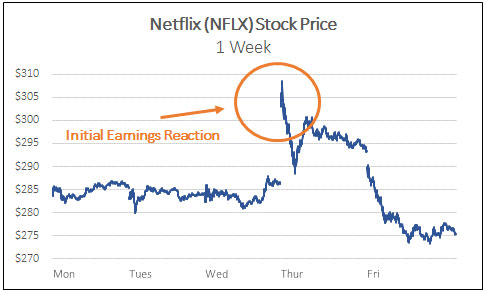 Source: www.YCharts.com
JPMorgan Chase (JPM), one of the country's biggest and most diversified financial companies with more than $1.5 trillion in deposits, came in with strong numbers for the quarter. Revenues hit a record level of $30.1 billion up 8% compared to last year and well ahead of Wall Street estimates. Management said the consumer remains strong helped by low unemployment and a strong balance sheet which all helped drive move home and auto loans as well as credit cards. Bank of America, just behind JPMorgan in terms of total deposits, also reported a strong quarter. For the week JPMorgan's stock gained +3.8% and Bank of America was higher by +5.0%. Both stocks are up more than +23% for the year.
Energy stocks were among the worst performers for the week. There was little to no company specific news moving these stocks so it could be investor concern about the continued weakening global economy and potential continued impacts from the ongoing trade war.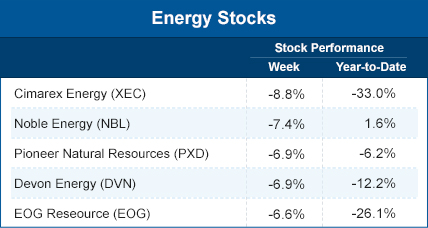 Source: www.YCharts.com
Economic Indicator - Reported
Retails sales came in weaker than economists expected for September falling -0.3% versus and estimate of +0.3% increase. This is the first decline in 7 months signaling we could see a slowdown in consumer spending. Auto sales, being impacted mostly by end-of-model year discounting, and gasoline, due to lower prices, were to blame for much of the decline but department stores, internet retailers, and home centers also reported lower numbers. Offsetting some of this disappointment for September was a revision higher to the August report by +0.2%.
Housing starts, the construction of new homes, fell by -9% in the most recent month to an annual rate of 1.26 million units. All regions in the country saw lower numbers with the Northeast and Midwest suffering the most. Although this report came in well below economists' forecast, a rise in permits and continued low mortgage rates suggests the slowdown may be short-lived.
Industrial Production fell for the first time in 5 months, down -0.4%, impacted by the strike at General Motors. Even when factoring out autos production was still lower by -0.2% with the declines being broad-based.
Economic Indicators – Upcoming
The following economic data are expected in the coming week:
Durable Goods Orders
New Home Sales
Existing Home Sales
Consumer Sentiment Index
The information provided here is for general informational purposes only and should not be considered an individualized recommendation or personalized investment advice. Any specific securities or investment strategies mentioned here may not be suitable for everyone. Each investor needs to review an investment strategy for his or her own situation before making any investment decision including whether to retain an investment adviser.
All expressions of opinion are subject to change without notice in reaction to shifting market, economic or political conditions. Data contained herein from third party providers is obtained from what are considered reliable sources. However, its accuracy, completeness or reliability cannot be guaranteed. This content was created as of the specific date indicated and reflects the author's views as of that date. Supporting documentation for any claims or statistical information is available upon request.
Past performance is no guarantee of future results. Any comments about the performance of securities, markets, or indexes and any opinions presented are not to be viewed as indicators of future performance.
Investing involves risk including loss of principal.
Indexes are unmanaged, do not incur management fees, costs and expenses, and cannot be invested in directly. For more information on specific indexes please see full disclosure here.
Any charts, tables, forecasts, etc. contained herein are for illustrative purposes only, may be based upon proprietary research, and are developed through analysis of historical public data.
All corporate names shown above are for illustrative purposes only and are NOT recommendations.
International investments involve additional risks, which include differences in financial accounting standards, currency fluctuations, geopolitical risk, foreign taxes and regulations, and the potential for illiquid markets. Investing in emerging markets may accentuate these risks.
Fixed income securities are subject to increased loss of principal during periods of rising interest rates. Fixed-income investments are subject to various other risks including changes in credit quality, market valuations, liquidity, prepayments, early redemption, corporate events, tax ramifications and other factors. Lower-rated securities are subject to greater credit risk, default risk, and liquidity risk.