All blog content is for information purposes. Any reference to indivisual stocks, indexes, or other securities as well as all graphs and tables are not recommendation but only referenced for illustration purposes.
Market Commentary
for the week ending August 2nd, 2019
Summary
The Federal Reserve cut interest rates for the first time in more than a decade
The economy added another 164,000 jobs in July with no signs of meaningful wage inflation
While stock prices fell sharply this week the alternative assets of real estate and gold moved higher
Market Performance Summary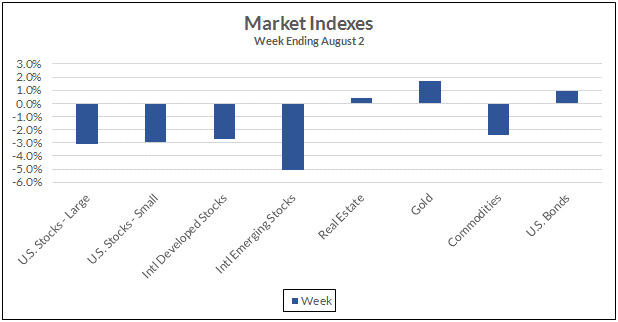 Source: www.YCharts.com
Notable Market Headlines
Markets were relatively quiet through the first half of the week but volatility picked up following the Federal Reserve's decision to lower interest rates by -0.25%. This news was generally received as positive by the markets but the Chairman Powell's comments later at the press conference were not as well received as he indicated further rates cuts in the future are not a certainty. This disappointment was then followed by a tweet from President Trump that he is increasing tariffs on Chinese imports all of which sent stocks lower around the world.
At the closing of trading on Friday U.S. large stocks, as measured by the S&P 500, were lower by -3.1%. The Dow Industrials fared slightly better down -2.6% while the NASDAQ Composite suffered the biggest loss of the three down -3.9% as technology stocks were among the worst performers. Small U.S. stocks were down similar to large stocks losing -2.9%. Large stocks remain higher year-to-date by +17.1% while small stocks are up +14.0%.
The S&P 500 loss this week puts it -3.2% from its all-time high hit just a week ago but the same is not the case for many sectors within the market as the accompanying graph shows. There are two outliers, Energy and Telecommunications, down -40% and -52% respectively, having not reach new highs in multiple years. All of the other sectors have seen new highs more recently but many are meaningfully further from those highs than the S&P 500 would suggest.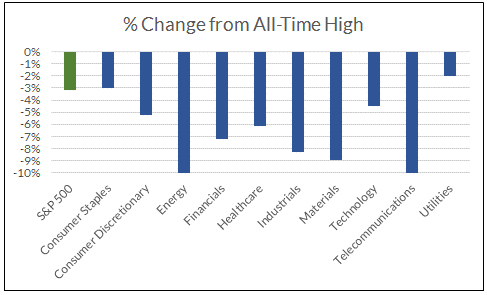 Source: www.YahooFinance.com
International stocks fell this week as well with developed country stocks down -2.8%. The worst performing among this group were Eurozone markets off -3.7% while Japan's market was lower by just -1.4% and Australia's by -2.1%. Performing worse were emerging markets falling -5.0% for the week. Both Hong Kong and China stocks suffered some of the biggest decline down -6.6% and -5.6% respectively. Investors clearly see the tensions between the U.S. and China impacting China more so today. Year-to-date developed markets are higher by +8.4%, less than half the gain of large U.S. stocks, and emerging markets are up just +3.8%.
The nontraditional asset classes, or alternative assets, weathered better this week than stocks helping investors with more diversified portfolios. The best performing was gold up +1.7% and now higher by +12.1% for the year. This week gold was clearly used as a safe-haven investment as the price drifted sideways with stocks for the first couple of days of the week but then immediately moved higher as stock prices moved lower. Real estate stocks were also higher for the week. This is a sector generally seen as benefiting from lower interest rates making their high dividend yields more attractive to investors.
Commodities closed the week lower by -2.4% but it was a very volatile week. The price of oil, a major driver of overall commodity prices, rallied through mid-week but then had one of its biggest single day price drops in several years when Trump announced more tariffs on China made goods and the risk this poses to world economic growth.
Bond prices moved sharply higher this week gaining +1.0% helped by both the Fed cutting interest rates as well as investors shifting money into bonds as they are selling stocks. The 10-year U.S. Treasury yield fell to 1.846% from above 2% last week. This is the lowest yield since last 2016.
Stock Highlights
Humana (HUM), one of the largest private insurance organizations, reported better than expected earnings for the quarter helped by strong membership growth in its government-backed Medicare Advantage plans for individuals. The company went on to say earnings per share for the full year should be better than originally expected. All of this good news made Humana's stock the best performing among the S&P 500 this week up +6.1%. In spite of this strong week though, the stock is very much lagging the overall market for the year up just +2.6%.
Another strong performer this week was Moody's Corporation (MCO), the second largest provider of credit ratings in the world. The company reported strong earnings as well topping Wall Street expectations driving its stock higher for the week by +5.4%. This week's rally adds to its strong year and, as the accompanying graph shows, to its strong 5 year performance.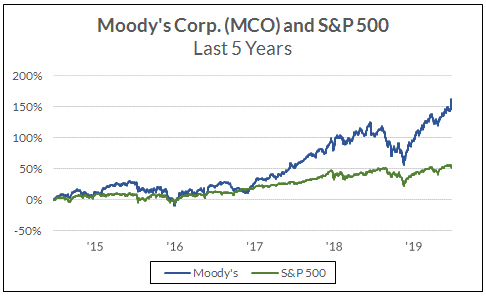 Source: www.YahooFinance.com
Abiomed Inc. (ABMD) was the worst performing stock among the S&P 500 this week falling -26.4% and is now lower for the year by -38.3%. This stock increased by more than 10 times from 2015 to 2018! Now in less than a year the stocks has fallen -55% from its high. This maker of the world's smallest heart pump provided disappointing sales growth guidance for 2020 causing investors to question the company's long-term growth potential.
NetApp (NTAP), a leading provider of data storage and management, has seen falling revenue growth for more than a that has accelerated in the most recent quarter. Management provided preliminary results for the quarter ending in July saying revenue will come in approximately -17% below the same period a year ago due to weakening macroeconomic conditions. The stock fell -22.1% for the week and is down a similar amount for the year.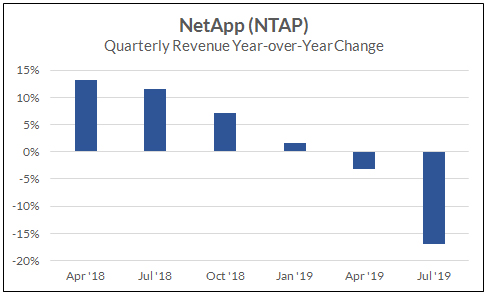 Source: www.YCharts.com
Economic Indicator - Reported
The July Employment report showed the economy created 164,000 which was very much in line with economists' expectations as the unemployment rate remained near its 50-year low at 3.7%. The strength came from professional and business services as well as the health care and education sectors. There was continued weakness in retail and media.
Although the July report came in as expected, there were revisions to prior months with a cumulative 41,000 fewer jobs than originally reported. Also surprising to some is the modest wage growth rate of +3.2 over the last 12 months. With the unemployment rate so low, economists expect more upward pressure on wages that has not yet transpired.
Home prices are higher by +2.4% over the past 12 months according to the S&P CoreLogic Case-Shiller 20-city index. This is a continued slowing in price momentum with it having peaked in March 2018 at an annual increase of +6.7%. There were meaningful differences across regions with New York City prices flat for the month while prices in Minneapolis were higher by +1.7%.
Consumer Confidence jumped in July to a reading of 135.7 as consumers show no signs of worry about the economy in spite of the Federal Reserve thinking otherwise. This month's report puts the index just below its 18-year high reached late last year.
Economic Indicators – Upcoming
The following economic data is expected in the coming week:
Producer Price Index
ISM Nonmanufacturing Index
Consumer Credit