All blog content is for information purposes. Any reference to indivisual stocks, indexes, or other securities as well as all graphs and tables are not recommendation but only referenced for illustration purposes.
The Flex Rallies
The Flex Strategy gained +9.9% for the week while the S&P 500 was higher by +0.4%. This brings the Flex back into positive territory for the year while the S&P 500 remains lower by -8.0%.
Built-in Risk Controls
It was an extremely volatile week for both the Flex and S&P 500 as investors reacted to news regarding the coronavirus. The Flex has multiple built-in risk controls including one that reduces the total exposure, and therefore reduces risk, when volatility increases as it has.
Exposure is the amount of stocks in the portfolio relative to the amount of investor's capital. The goal is for the Flex to have $5 of stocks for each $1 invested or exposure of 5 to 1. This is done through borrowing. Note that the stocks in the Flex Strategy are always a combination of long and short positions.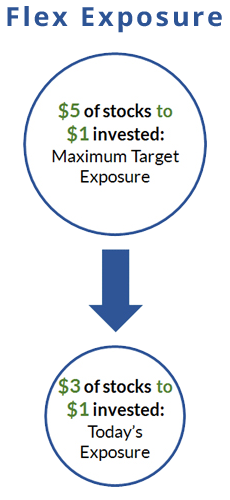 As volatility increases, moving above its long-term average, the Flex will automatically reduce its exposure, again, reducing risk. This has occurred multiple times since the launch 10 years ago. Most recently, exposure was reduced in September of last year, to a ratio of $4 to $1, when we had a stretch of heightened volatility. This again happened on Friday reducing the exposure to a ratio of $3 to $1. This will reduce, but certainly not eliminate, some of the volatility in the Flex.
What Next?
There's no way to know what comes next. The obvious answer is more volatility and I suppose this is likely. Volatility though can disappear as fast as it came upon us in late January.
Regardless of where the market goes next, the performance of our Flex Strategy will continue to have its good and bad days sometimes doing better than the market and sometimes worse. As more time passes, and as research shows in last week's blog, odds will remain in our favor that the Flex will continue to deliver better than market performance.