All blog content is for information purposes. Any reference to indivisual stocks, indexes, or other securities as well as all graphs and tables are not recommendation but only referenced for illustration purposes.
Market Commentary
for the week ending December 28th, 2019
Summary
The S&P 500 hits a record high while small stocks inch lower
Reports of the strong holiday shopping season fueled gains for Amazon and other retailers
Some economic data came in below expectations
Market Performance Summary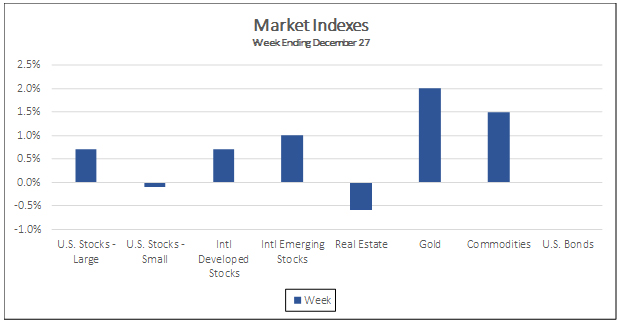 Source: www.YCharts.com
Notable Market Headlines
In what was a shortened and relatively quiet week on Wall Street, stocks continued to move higher delivering to investors a so-called Santa Claus Rally. At the close of the week both the S&P 500 and Dow Jones Industrials, the most popular measures of large U.S. stock performance, were higher by +0.7% while the tech-heavy NASDAQ Composite gained +0.9% and closed above 9,000 for the first time. Small U.S. stocks though did lag behind moving lower for the week by -0.1%. Year-to-date the gains are all impressive with large stocks up +29.3% and small stocks gaining +23.9%.
International stocks rallied too with developed markets matching the gains of large U.S. stocks up +0.7% while emerging markets outpaced rallying +1.0%. The largest of the emerging markets, China, posted a strong performance once gain and is now up +7.4% from its early December low though lags many of the markets in 2019 with a gain of just +11.8%.
Gold and Commodities were both meaningfully higher this week up +2.0% and +1.5% respectively. One argument for the strong performance of both is hopes the global economy will strengthen in the coming months and quarters. Real estate stocks were one of the few weak areas declining -0.6% for the week.
Bond prices overall were flat for the week while higher quality 10-Year U.S. Treasuries gained +0.4% closing with a yield of 1.878%.
Stock Highlights
Amazon (AMZN), the online retailing giant, has racked up a record-breaking holiday shopping season giving investors something to cheer about. The company said it shipped billions of items worldwide and, in just one week, signed up more than 5 million new customers to its popular Prime service. Separately, Mastercard said overall holiday sales were higher by +3.4% including a +18.8% increase in online shopping with Amazon presumably capturing its share or more of that online increase. As the accompanying graph shows, in spite of Amazon's massive size, the company has maintained a relatively impressive rate of growth in revenue. At the close of the week Amazon's stock was higher by +4.7% adding to its strong performance in 2019.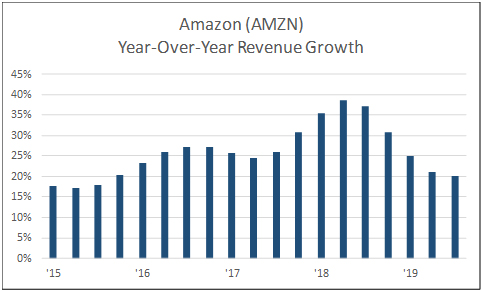 Source: www.YCharts.com
Apache Corp. (APA), one of the largest energy exploration and production companies in the world, announced a joint venture with French energy giant Total S.A. (TOT). The two companies will explore 1.4 million acres in waters that are part of the northeastern South American country of Suriname. Apache's stock jumped +15.5% for the week on this news but remains nearly -29% off its 2019 high reached in late April.
Newmont Mining (NEM), the world's largest producer of gold, benefitted this week from a rally in the price of gold with its stock climbing +4.3%. In spite of this rally, it's been a rough ride for investors the past several years with the stock still off its 2011 record high by about -40%.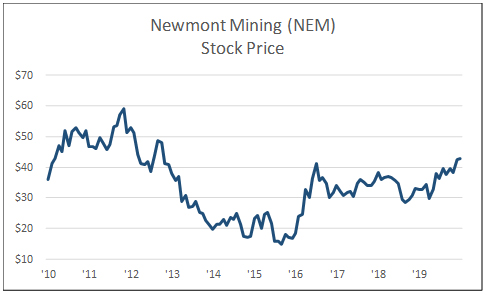 Source: www.YahooFinance.com
Economic Indicator - Reported
Durable Goods Orders, orders for items expected to last for multiple years, dropped a surprising -2.0% in November while economists were expecting a +1.0% gain. When stripping out defense orders, orders were actually higher by +0.8%. The bigger picture challenge is that investments by businesses remains sluggish due to uncertainty about trade and the outlook for the economy.
New Home Sales came in below expectations at an annualized rate of 719,000. This report though did represent an improvement over the prior month's revised lower number and is higher by +19.4% year-over-year. The results by region were mixed with sales up in the Northeast and West while down in the South and flat in the Midwest. Note that this report is often subject to significant revisions.
Economic Indicators – Upcoming
The following economic data are expected in the coming week:
Chicago Purchasing Manager's Index
Case-Shiller Home Price Index
Consumer Confidence Index
ISM Manufacturing Index