All blog content is for information purposes. Any reference to indivisual stocks, indexes, or other securities as well as all graphs and tables are not recommendation but only referenced for illustration purposes.
Market Commentary
for the week ending March 21st, 2020
Summary
U.S. stocks had their worst week since the roughest days for the 2008 Financial Crisis
Oil price slid to multi-year lows as demand shrinks and supplies persist
Real estate stocks suffered a major blow on fears of falling occupancy rates
Market Performance Summary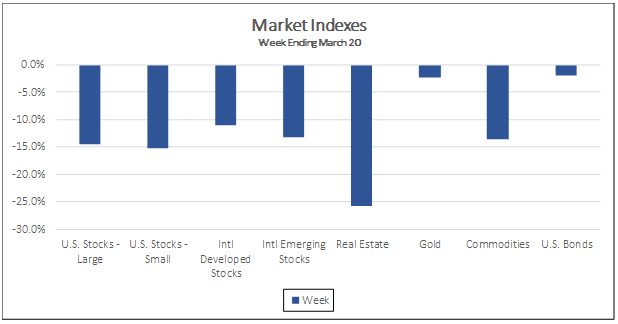 Source: www.YCharts.com
Notable Market Headlines
Stock prices collapsed around the world as the economic impact of the coronavirus becomes more apparent with the real fear being that there simply is no end in sight. Large U.S. stocks dropped a staggering -14.5%, as measured by the S&P 500, with the index now down -28.7% for the year and -31.9% from the all-time highs. Small U.S. stocks are suffering more off -15.1% for the week and -38.8% in 2020.
International stocks are falling as well but did hang on slightly better this week with developed markets lower by -11.1% and emerging markets down -13.2%. Among the worst performers were Brazil falling -23.3% and Australia by -22.5% for the week and -52.9% and 40.9% respectively year-to-date. These are staggering numbers!
Real estate stocks had an absolutely miserable week plummeting -25.8% and are lower by -44.4% since their peak just last month. Commodities fell -13.5% as the price of oil tanked. Gold was among the best performing asset classes down just -2.2% for the week and 1.9% year-to-date.
The activity in the bond market is nearly unprecedented with prices and yields fluctuating drastically from day-to-day. Overall bond prices fell by -1.8% but there was a huge disparity in returns from one type of bond to another. The safe-haven U.S. mid-term Government Bonds rose by +1.5% while high-yield corporate bonds plunged -12.9%.
Stock Highlights
Many individual stocks are experiencing massive gains and losses as investors try to figure out which will be the survivors and which may not make it through this pandemic. Below are some of the worst performers year-to-date as well as some of the best.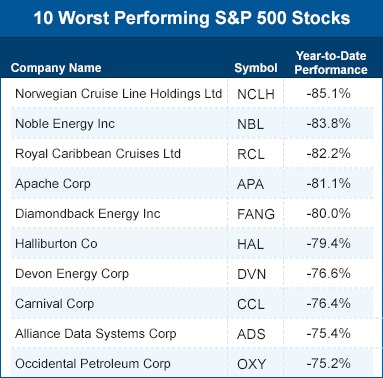 Source: www.YCharts.com
There was some notable performance behavior on the last day of the week when the overall markets fell sharply. Some of the worst performing stocks actually moved sharply higher on hopes that we may be closer to a bottom and could see some help from the government. Here are a few of those stocks: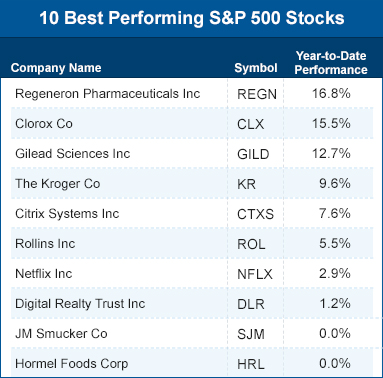 Source: www.YCharts.com
Economic Indicator - Reported
Retail Sales fell -0.5% versus economists' expectations of a gain. Early fears of the coronavirus as well as a drop in gasoline prices fueled this negative report. Future months are expected to be much worse.
Housing Starts came in meaningfully better than economists had expected at 1.599 units annually. Although this was lower than the previous month is was +39% above the same period a year ago. The strong was in single family starts, up +6.7%, while multi-family starts dropped -17%.
Economic Indicators – Upcoming
The following economic data are expected in the coming week:
New Home Sales
Durable Goods Orders
Consumer Spending
Consumer Sentiment