All blog content is for information purposes. Any reference to indivisual stocks, indexes, or other securities as well as all graphs and tables are not recommendation but only referenced for illustration purposes.
We surveyed our clients to see if we are experiencing the same trust gap experienced in the industry. The results are in and the results are good.
According to a recent study conducted by the CFA Institute, the investment industry is facing a significant trust gap. They surveyed more than 3,000 individual investors asking how often their advisor acts in their best interest. The industry results were relatively poor with only 35% of investors saying their advisor always acts in their best interest. For institutional investors, this figure dropped to just 25%.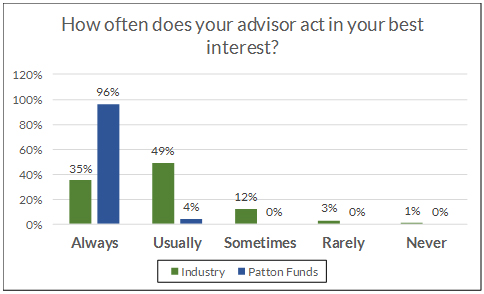 Source: https://nextgentrust.cfainstitute.org/ - response for retail investors
We asked our clients the same question and received responses from more than half. We were pleased with 96% saying we always act in their best interest.
Being a Fiduciary
Always acting in the best interest of our clients is not an option at Patton Funds but a legal requirement. It's called being a fiduciary. Surprising to many investors is that not every financial professional in the industry, such as brokers, have this same legal requirement.
According to the Cornell Law Dictionary, a fiduciary duty is the highest standard of care. The Securities and Exchange Commission (SEC), which regulates Patton and other Registered Investment Advisors (RIAs), says the fiduciary duty entails:
Acting with undivided loyalty and utmost good faith
Providing full and fair disclosure of all material facts
Not misleading clients
Avoiding conflicts of interest and disclosing any potential conflicts of interest
Not using a client's assets for the advisor's own benefit of the benefit of other clients
The fiduciary standard is much different than the suitability standard. The suitability standard merely requires a financial professional to have adequate reason to believe a recommendation is suitable for the client. Consider the difference in the following example.
Let's assume stocks are a suitable investment for an investor and there are two comparable stock funds for the advisor to recommend. If one fund has higher costs and pays the advisor more, an advisor held only to the suitability standard can recommend the higher costing fund. An advisor, such as Patton, who is held to the fiduciary standard legally cannot.
The above is just one example of the ramifications of working with an advisor who is not a fiduciary. There are many more.
Conclusion
We believe at Patton Funds that being a fiduciary to our clients is extremely important and is a legal responsibility we adhere to. We encourage our clients to communicate with us anytime they believe we are not adhering to this standard. Furthermore, we encourage all investors to know if their advisor is a fiduciary and, if not, know the potential ramifications of such a relationship and the advice you may receive.