ALL BLOG CONTENT IS FOR INFORMATIONAL PURPOSES ONLY. ANY REFERENCE TO OR MENTION OF INDIVIDUAL STOCKS, INDEXES, OR OTHER SECURITIES ARE NOT RECOMMENDATIONS AND ARE SPECIFICALLY NOT REFERENCED AS PAST RECOMMENDATIONS OF PATTON WEALTH ADVISORS. ALL GRAPHS, CHARTS, AND TABLES ARE PROVIDED FOR ILLUSTRATION PURPOSES ONLY. EXPRESSIONS OF OPINION ARE ALSO NOT RECOMMENDATIONS AND ARE SUBJECT TO CHANGE WITHOUT NOTICE IN REACTION TO SHIFTING MARKET, ECONOMIC, OR POLITICAL CONDITIONS. IT IS COMMON FOR US TO USE A FUND AS A PROXY FOR AN INDEX OR ASSET CLASS. FOR MORE DETAILS SEE OUR FULL DISCLOSURE HERE.
We surveyed our clients to see if we are experiencing the same trust gap experienced in the industry. The results are in and the results are good.
According to a recent study conducted by the CFA Institute, the investment industry is facing a significant trust gap. They surveyed more than 3,000 individual investors asking how often their advisor acts in their best interest. The industry results were relatively poor with only 35% of investors saying their advisor always acts in their best interest. For institutional investors, this figure dropped to just 25%.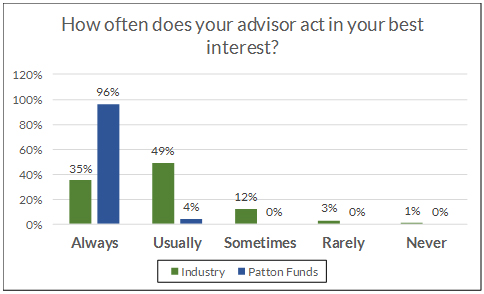 Source: https://nextgentrust.cfainstitute.org/ - response for retail investors
We asked our clients the same question and received responses from more than half. We were pleased with 96% saying we always act in their best interest.
Being a Fiduciary
Always acting in the best interest of our clients is not an option at Patton Funds but a legal requirement. It's called being a fiduciary. Surprising to many investors is that not every financial professional in the industry, such as brokers, have this same legal requirement.
According to the Cornell Law Dictionary, a fiduciary duty is the highest standard of care. The Securities and Exchange Commission (SEC), which regulates Patton and other Registered Investment Advisors (RIAs), says the fiduciary duty entails:
Acting with undivided loyalty and utmost good faith
Providing full and fair disclosure of all material facts
Not misleading clients
Avoiding conflicts of interest and disclosing any potential conflicts of interest
Not using a client's assets for the advisor's own benefit of the benefit of other clients
The fiduciary standard is much different than the suitability standard. The suitability standard merely requires a financial professional to have adequate reason to believe a recommendation is suitable for the client. Consider the difference in the following example.
Let's assume stocks are a suitable investment for an investor and there are two comparable stock funds for the advisor to recommend. If one fund has higher costs and pays the advisor more, an advisor held only to the suitability standard can recommend the higher costing fund. An advisor, such as Patton, who is held to the fiduciary standard legally cannot.
The above is just one example of the ramifications of working with an advisor who is not a fiduciary. There are many more.
Conclusion
We believe at Patton Funds that being a fiduciary to our clients is extremely important and is a legal responsibility we adhere to. We encourage our clients to communicate with us anytime they believe we are not adhering to this standard. Furthermore, we encourage all investors to know if their advisor is a fiduciary and, if not, know the potential ramifications of such a relationship and the advice you may receive.
The information provided here is for general informational purposes only and should not be considered an individualized recommendation or personalized investment advice. Any specific securities or investment strategies mentioned here may not be suitable for everyone. Each investor needs to review an investment strategy for his or her own situation before making any investment decision including whether to retain an investment adviser.
All expressions of opinion are subject to change without notice in reaction to shifting market, economic or political conditions. Data contained herein from third party providers is obtained from what are considered reliable sources. However, its accuracy, completeness or reliability cannot be guaranteed. This content was created as of the specific date indicated and reflects the author's views as of that date. Supporting documentation for any claims or statistical information is available upon request.
Past performance is no guarantee of future results. Any comments about the performance of securities, markets, or indexes and any opinions presented are not to be viewed as indicators of future performance.
Investing involves risk including loss of principal.
Indexes are unmanaged, do not incur management fees, costs and expenses, and cannot be invested in directly. For more information on specific indexes please see full disclosure here.
Any charts, tables, forecasts, etc. contained herein are for illustrative purposes only, may be based upon proprietary research, and are developed through analysis of historical public data.
All corporate names shown above are for illustrative purposes only and are NOT recommendations.
International investments involve additional risks, which include differences in financial accounting standards, currency fluctuations, geopolitical risk, foreign taxes and regulations, and the potential for illiquid markets. Investing in emerging markets may accentuate these risks.
Fixed income securities are subject to increased loss of principal during periods of rising interest rates. Fixed-income investments are subject to various other risks including changes in credit quality, market valuations, liquidity, prepayments, early redemption, corporate events, tax ramifications and other factors. Lower-rated securities are subject to greater credit risk, default risk, and liquidity risk.