ALL BLOG CONTENT IS FOR INFORMATIONAL PURPOSES ONLY. ANY REFERENCE TO OR MENTION OF INDIVIDUAL STOCKS, INDEXES, OR OTHER SECURITIES ARE NOT RECOMMENDATIONS AND ARE SPECIFICALLY NOT REFERENCED AS PAST RECOMMENDATIONS OF PATTON WEALTH ADVISORS. ALL GRAPHS, CHARTS, AND TABLES ARE PROVIDED FOR ILLUSTRATION PURPOSES ONLY. EXPRESSIONS OF OPINION ARE ALSO NOT RECOMMENDATIONS AND ARE SUBJECT TO CHANGE WITHOUT NOTICE IN REACTION TO SHIFTING MARKET, ECONOMIC, OR POLITICAL CONDITIONS. IT IS COMMON FOR US TO USE A FUND AS A PROXY FOR AN INDEX OR ASSET CLASS. FOR MORE DETAILS SEE OUR FULL DISCLOSURE HERE.
Market Commentary
for the week ending November 13th, 2020
Summary
Stocks rally on news of Pfizer's (PFE) positive COVID-19 vaccine test results.
Inflation remains very low putting no pressure on the Federal Reserve to raise rates
2020's market laggards become the new market leaders
The New Market Leaders
The Monday morning news from pharmaceutical giant Pfizer on their COVID-19 vaccine trials set the tone for the week's trading. This was the second back-to-back weeks of gains with the first being Election Week and the second being, what I'm calling, Vaccine Week.
The best performing stocks during these two weeks of market gains could not have been more different from one another.During Election Week the stocks that led the way higher were all of the stocks that had been leading the markets higher throughout the pandemic. But during the most recent week, Vaccine Week, the stocks performing the best were those that have suffered the most during the pandemic. The week was one of the biggest reversals of losers turning to winners in history!
The following graphs highlight the performance differences from week-to-week.
Growth Stocks vs. Value Stocks: Value stocks have lagged behind in 2020 and did so during Election Week but surged during Vaccine Week far outpacing growth stocks.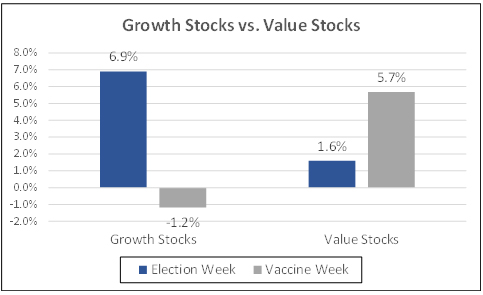 Source: www.YCharts.com
Interesting Numbers
$15.9 Trillion
The Federal Reserve reported total deposits at U.S. commercial banks surged to a record $15.9 trillion in the most recent week. In addition to record bank deposits, there is a record $4.6 trillion in money market funds as illustrated in the accompanying graph. This all helps keep interest rates low and is possible fuel for a continued market rally in investors pull some of this money off the sidelines.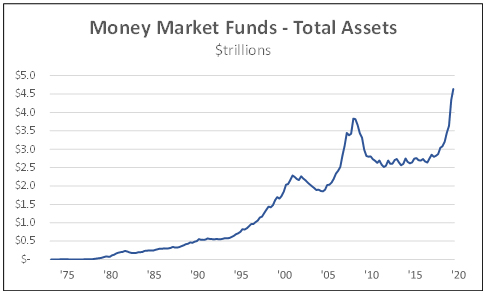 This Week's Performance Highlights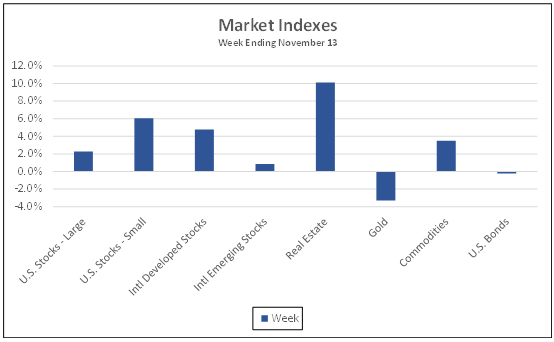 Source: www.YCharts.com
The vaccine news set the stage for the week's rally as discussed above. Although investors are optimistic about how a vaccine will help the economy, there is a bit of a tug of war going on with the record number of reported COVID-19 cases. This tug of war played out throughout the week and will likely continue for some time.
Large U.S. stocks, as measured by the S&P 500, gained +2.2% while the Dow Jones Industrials outpaced it by nearly double up +4.1%. The laggard, very unusual in 2020, was the NASDAQ Composite declining by -0.6%. Year-to-date the NASDAQ has outpaced the S&P 500 by more than +20%.
Small stocks were the big winners, again unusual for 2020, surging +6.0% as many of the stocks expected to most benefit from a reviving economy are smaller and surged on the vaccine news.
Every sector but one, technology, was higher led by beaten up energy stocks jumping +17.1% for the week followed by financials gaining a big +8.3%. These two best performing sectors for the week are the only two sectors that remain lower year-to-date.
International stocks rallied as well with Eurozone markets the biggest winners up +6.9%. The best performing countries were Spain and France up +13.9% and +8.6% respectively. Developed markets overall were higher by +4.8% returning to positive territory for the first time year-to-date since the pandemic's start.
Emerging markets were laggards up only +0.8% hurt by a decline in China of -0.5%. Many individual countries though rallied big including Turkey and Thailand up +21.9% and +9.6% respectively for the week but both still are lower by double-digits year-to-date.
Real estate stocks were huge winners this week gaining +10.1% as investors anticipate more people returning to offices and shopping centers. Commodity prices also gained +3.5% chipping away at their -32.1% year-to-date loss.
The shine has come off of gold the last three months lower by another -3.3% this week. Since its peak in early August it has fallen -8.6% while most everything else has inched higher.
Bond prices inched lower by -0.2% as investors shunned anything considered a safe-haven this week. As the accompanying graph shows the yield on the 10-Year U.S. Treasury remains very low but has risen meaningfully since early August.

Source: www.YCharts.com
Economic Indicators
Inflation remains weak as measured by the Consumer Price Index (CPI) with prices unchanged in October compared to a +0.2% the month before. Groceries and electricity experienced small price increases but were offset by lower prices for gasoline, car insurance, clothing, and more. The year-over-year inflation rate now stands at just +1.2% compared to +2.3% pre-pandemic as illustrated below. Economists believe prices will increase faster when the economy starts to accelerate.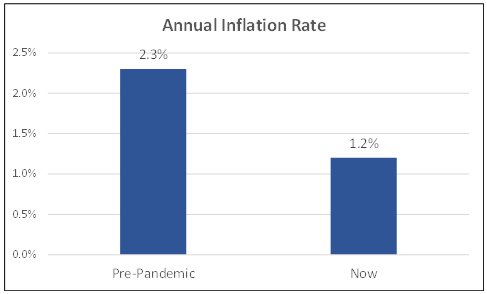 Source: https://www.bls.gov/
The Producer Price Index (PPI), a measure of wholesale inflation, rose by +0.3% in October as prices continue to rebound from the early pandemic drop. Although this month's increase is the 6th consecutive month of higher prices the year-over-year increase has been a very small +0.5%.
The employment market continues to improve with initial jobless claims coming in better than economists expected falling to 709,000 from 751,000 the week before. A total of 6.79 million people received unemployment benefits down from 7.22 million the week before. It has been widely believed that employment improvements will stall given the increased COVID-19 cases but it has yet to be seen.
Consumer Sentiment came in at a reading of 77.0 which was both below forecasts and down from the month before. Rising COVID cases may be causing consumers concerns.
Upcoming Economic Reports
Retail Sales
Industrial Production
Housing Starts
Existing Homes Sales
Jobless Claims
The information provided here is for general informational purposes only and should not be considered an individualized recommendation or personalized investment advice. Any specific securities or investment strategies mentioned here may not be suitable for everyone. Each investor needs to review an investment strategy for his or her own situation before making any investment decision including whether to retain an investment adviser.
All expressions of opinion are subject to change without notice in reaction to shifting market, economic or political conditions. Data contained herein from third party providers is obtained from what are considered reliable sources. However, its accuracy, completeness or reliability cannot be guaranteed. This content was created as of the specific date indicated and reflects the author's views as of that date. Supporting documentation for any claims or statistical information is available upon request.
Past performance is no guarantee of future results. Any comments about the performance of securities, markets, or indexes and any opinions presented are not to be viewed as indicators of future performance.
Investing involves risk including loss of principal.
Indexes are unmanaged, do not incur management fees, costs and expenses, and cannot be invested in directly. For more information on specific indexes please see full disclosure here.
Any charts, tables, forecasts, etc. contained herein are for illustrative purposes only, may be based upon proprietary research, and are developed through analysis of historical public data.
All corporate names shown above are for illustrative purposes only and are NOT recommendations.
International investments involve additional risks, which include differences in financial accounting standards, currency fluctuations, geopolitical risk, foreign taxes and regulations, and the potential for illiquid markets. Investing in emerging markets may accentuate these risks.
Fixed income securities are subject to increased loss of principal during periods of rising interest rates. Fixed-income investments are subject to various other risks including changes in credit quality, market valuations, liquidity, prepayments, early redemption, corporate events, tax ramifications and other factors. Lower-rated securities are subject to greater credit risk, default risk, and liquidity risk.