All blog content is for information purposes. Any reference to indivisual stocks, indexes, or other securities as well as all graphs and tables are not recommendation but only referenced for illustration purposes.
Market Commentary
for the week ending August 23rd, 2019
Summary
China unveiled a new round of tariffs on $75 billion of U.S. goods and Trump retaliated by further raising tariffs of good from China into the U.S.
Fed Chairman Powell signals more rate cuts are possible
Several retails stocks had a great week helped by some key earnings reports
Market Performance Summary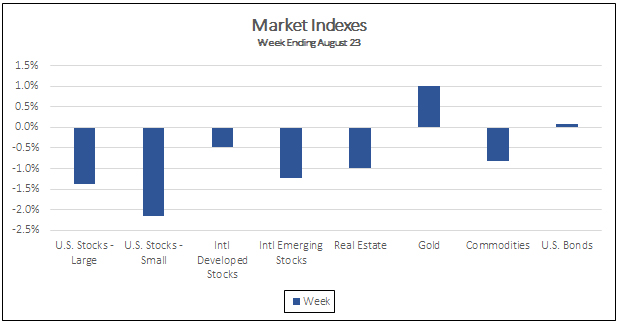 Source: www.YCharts.com
Notable Market Headlines
U.S. markets had one of their more volatile weeks with the markets whipsawing higher at the start of the week followed by a relatively sharp selloff at the close. In a much anticipated speech by Fed Chairman Powell, he said the trade war will slow economic growth and signaled the Fed stands ready to further cut interested rates if needed. This was generally welcome news to investors but it was shortly followed by China announcing new tariffs on $75 billion of U.S. goods with Trump promptly responding by further raising tariffs on goods from China. This escalation in the trade war spooked investors sending stocks sharply lower.
Monday was a strong start for stocks gaining +1.2% followed by 3 days of moves less than 1%. Friday's sharp selloff of -2.6%, or more than 600 points for the Dow Jones Industrials, left U.S. large stocks, as measured by the S&P 500, down for the week by -1.4% while the Dow fared better down just -1.0% and the NASDAQ worse losing -1.8%. Small U.S. stocks suffered a harder blow down -2.2%. In spite of these declines, large stocks are still higher year-to-date by an impressive +15.0% while small stocks are up +9.3%.
International stocks were lower but developed markets declined just -0.5% for the week. In Europe stocks were flat on average helped by markets in both Germany and Italy actually gaining ground. Emerging markets fell -1.2% hurt by a sharp -5.1% drop in Brazilian stocks while China, the largest of the emerging markets, was off just -0.7%. Year-to-date developed markets are higher by +7.7% while emerging markets are holding onto a very small +0.7% gain.
The non-traditional asset classes were mixed but all held up better than both large and small U.S. stocks. Gold was the only one that rose in price gaining +1.0% as investors continue to use this as a safe place to park some money during times of perceived higher uncertainty. Commodities were lower by -0.8% and real estate stocks declined by -1.0%. Real estate remains the best performer year-to-date up +19.0%.
Bond prices were fractionally higher up +0.1% pushing the yield on the 10-year U.S. Treasury back down to 1.538%. The Fed Chairman's comments helped prices as well as investors generally viewing bonds as a safer, less volatile place to have money when stocks are gyrating higher and lower. The yield curve remains inverted, see last week's blog for more on this, with shorter-term bond paying a higher yield than longer-term bonds.
As the accompany graph shows, stock prices are meaningfully off their 1-year highs. Large U.S. stocks do continue to hold up the best of the various STOCK markets down just -5.8% from their late July highs. The story is much different for most other markets such as small U.S. stocks that never reached a new high in 2019 and are off -16.1% from their September 2018 highs. On the other hand, as is often the case during stock market selloffs, real estate, gold, and bonds have performed better and are either at or very close to record prices.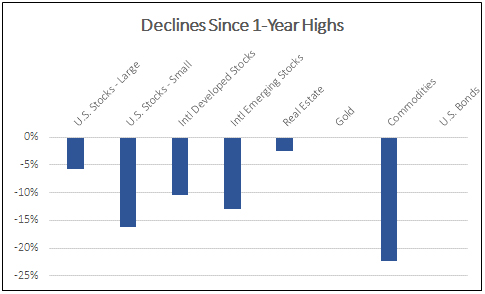 Source: www.YCharts.com
Stock Highlights
Target (TGT), a leading general merchandise retailer with more than 1,800 stores, reported better than expected quarterly results with earnings up +17% on revenue of $18.42 billion. Same-store sales rose +3.4% helped by the company's in-store pickup and same-day shipping services. Target, like some others, are trying to leverage their brick-and-mortar to better compete with Amazon with these results suggesting they are getting some traction. The accompanying graph shows the company's revenue has had its ups and downs during the past decade but clearly the trend is strong in 2019. All of this good news pushed the stock higher by a big +23.8% and is now up +56.6% for the year.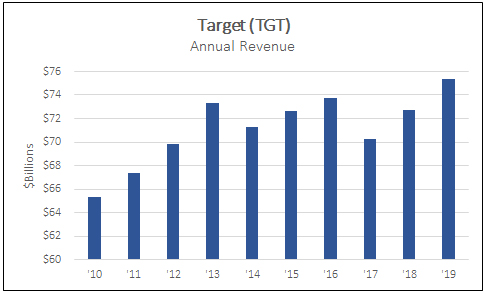 Source: www.YCharts.com
Lowe's Companies (LOW), the second largest home improvement retailer in the world behind Home Depot (HD), reported quarterly results that topped Wall Street's estimates on every metric (sales, earnings, and same-store sales growth) helped by growth in its paint and pro business. The company's biggest competitor Home Depot (HD) also reported quarterly results that were more mixed with an earnings beat on sales that fell below forecasts. Both stocks rallied this week with Lowe's doing better with a +13.3% gain as compared to Home Depot's stock up just +6.8% but, as the accompanying graph shows, Home Depot has performed much better over the past decade.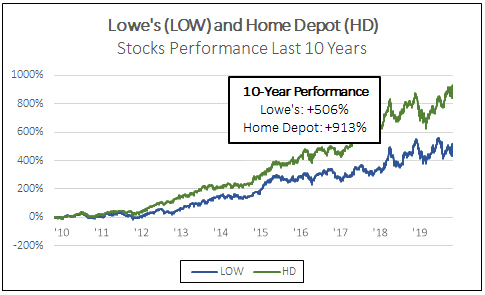 Source: www.YahooFinance.com
L Brands (LB), the women's apparel company with brands including Victoria's Secret and Bath & Body Works, reported quarterly results with earnings per share topping estimates but revenue fell short. Management further said that third quarter results are expected to fall short of prior guidance. These disappointments are on top of the company facing a shareholder class action lawsuit suggesting there were material misstatements made about the health of the company in 2018. All of this resulted in the stock falling -12.6% for the week, adding to losses already this year leaving the stock down -31.7% for 2019.
Other headlines and stock movers…
Estee Lauder (EL) reported strong earnings pushing its stock to a record high.
Several other retailers rallied this week following both Target and Lowe's higher including Nordstrom (JWN) + 12.8%, Gap Inc.(GPS) +6.0%, and TJX Companies (TJX) +3.3% for the week.
Boeing's (BA) stocks gained +7.7% this week helped by hopes that it will soon get its 737 MAX back in the air.
Economic Indicator - Reported
There was some mixed data on the U.S. housing market. New Home Sales came in both below expectations at 635,000 units annually and well BELOW the prior month. The good news is that sales are up +4.3% compared to the same time a year ago and the prior month's number was revised meaningfully higher.
Contrary to new home sales, Existing Homes Sales topped estimates at 5.42 million and was well ABOVE the prior month's report. Year-over-year though sales are up just +0.6% as prices have climbed +4.3% during the same time. This month's better than expected report was helped by a surge in sales in the West by +8.3%.
The Leading Economic Indicators index rebounded from two consecutive months of declines up +0.5% in July. Although it was higher, the Conference Board that publishes this report, said economic growth is still likely to slow in the second half of the year.
Economic Indicators – Upcoming
The following economic data are expected in the coming week:
Durable Goods Orders
Case-Shiller Home Price Index
Consumer Confidence Index
Revised Gross Domestic Product
Income and Spending data
Consumer Sentiment Index